LAUNCH SPECIAL
Receive 40% off when renting for more than 3 days per month!
Here's what you get with us…
No-Risk Laser Rental Solution:
Contracts? Forget about it! It just doesn't make sense to make you pay for days you're not using it.
We give you professional training from our Alma-certified partners at an unbeatable rate. 
Maintenance can run you thousands, but not with us… let us keep the device performing optimally FREE of charge for you.
No hidden fees! Get the latest in Alma's top laser hair reduction technology for a fraction of ownership cost with our rental fees.
Customer support available with more than 20 years in the business.
We have the best plans to accommodate your use. Just ask us how and we'll deliver and set up the device FREE.
FREQUENTLY ASKED QUESTIONS
Do you provide training?
How long does it take to get started?
Once you are trained and certified to operate, depending on availability, rentals can be booked with as little as 24hrs in advance! This becomes very valuable when your business grows quickly and you are in need of an extra day to handle more clients.
Can I make money renting a Soprano Platinum laser hair reduction device?
This is the golden question…ABSOLUTELY! To give some idea, with the Soprano Platinum, the rental cost is typically covered in the first 1.5hrs-2hrs of treatments. The rest of the rental time is then profit!
This is simply not possible with other devices. IPL and other laser machines will take 3-5 times longer to do the same treatments, they really hurt (often even burning clients!) and just don't work as well.
Are the devices sterilized?
Yes. We are following AHS guidelines and have a complete cleaning and sterilization protocol between every renter, to ensure you are getting a clean and safe device.
Is there a discount for training groups?
Yes. Contact us to discuss what options are available. This is of tremendous value if multiple people will be utilizing the machine at the same location.
SOPRANO ICE PLATINUM
Features & Benefits
Soprano ICE Platinum is an all-in-one system that gives you the most complete and effective solution available today for laser hair removal, using three wavelengths covering the optical spectrum.
Powerful Technologies
Employs the three most effective wavelengths in one laser hair removal machine: 810 nm, 755 nm and 1064 nm.
Effective on All Skin & Hair Types
Treat the widest range of patients and hair types without the consumables.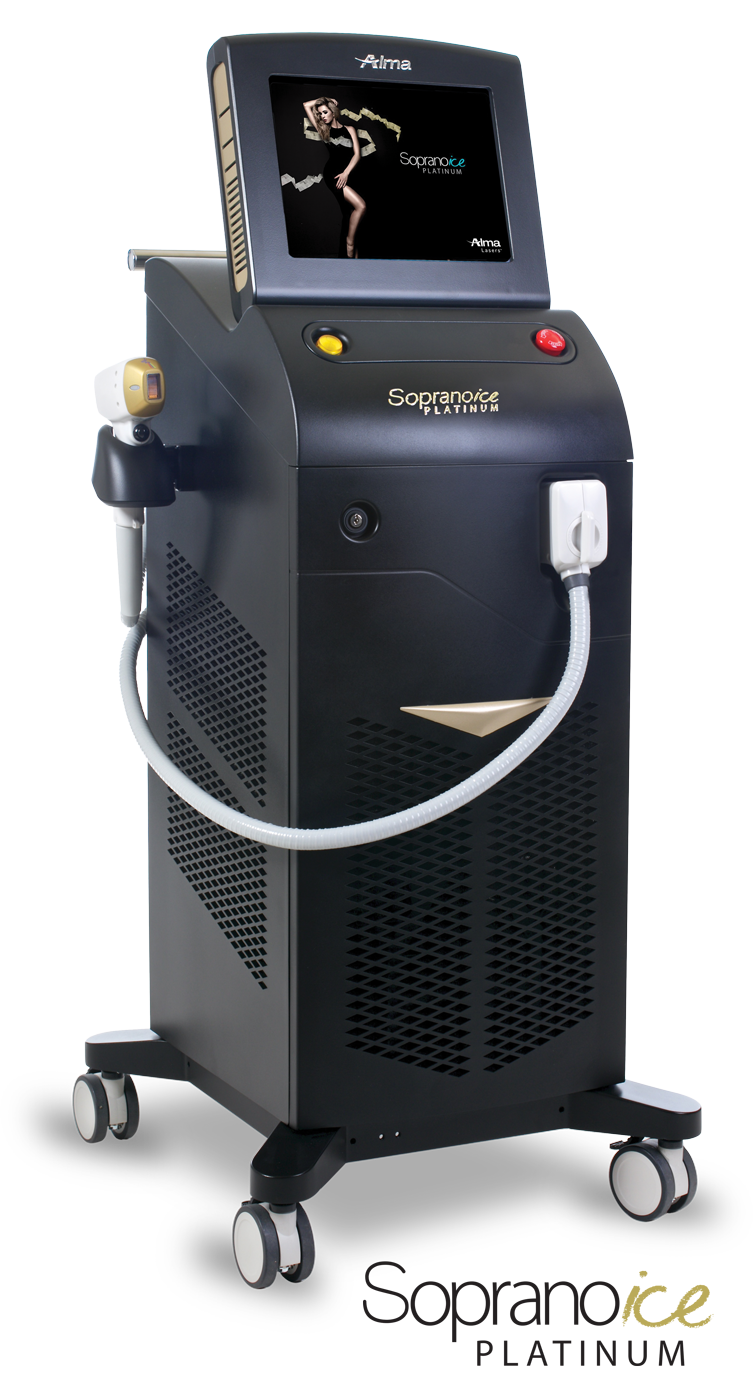 Proven Safety Record
Seven years of clinically proven effectiveness with a fast, cool treatment for the patient.
Treatment Efficiency
Intuitive and easy to use with the convenience of a full menu of preset parameters.
INQUIRE NOW
Get more details about our rental products